Nike AeroSwift technology is a recently introduced Nike sports apparel innovation that is found in all of the company's new official football Vapor Kits. In essence, it is a new texturized yarn that is woven is such a way as to feel more comfortable, stretch more and disband moisture better. The football shirts made with AeroSwift channel away sweat from the skin 20% faster than previous shirts, while also drying 25% faster.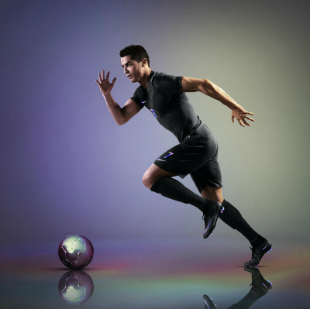 Nike AeroSwift
The Vapor kits with the AeroSwift feature are 10% lighter than the kits they replace and stretch 50% more. The new yarn feels much smoother against the skin. They feature a single knit where the athlete needs breathability, but switch to a double knit in places where more structure is required. Ventilation holes are strategically added where needed and while in the past such holes were usually made via lasers in post production, they are now woven directly into the fabric without compromising the structure of the garment.
The interesting feature of the new yarn is that it is constructed using recycled polyester made of plastic bottles. Since 2010, more than three billion plastic bottles have been diverted from landfills into Nike factories. This is in line with the company's commitment to sustainable production while reducing environmental impact.
Despite its surprising material choice, the kits feel very comfortable and pleasant to the touch. Shorts, which are often made from different materials as jerseys, can also be made of the AeroSwift yarn, providing increased comfort and lighter frame. A knitted mesh yoke in the back and a flat-finish waistband eliminates the need for a drawstring.
Where to get it?
It's important to note that the AeroSwift technology is only included in the official Nike Vapor Match shirts, so if you are interested in experiencing this innovation, be sure to get one of those. The cheaper Stadium jerseys, while looking very close to the Match ones, are not made of AeroSwift yarn.
See also: Nike Dri-FIT