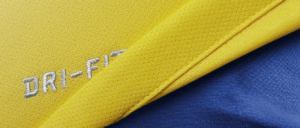 Nike Dri-FIT is a high performance, microfiber, polyester fabric found in the official Nike soccer apparel. It moves the sweat away from the body and to the fabric's surface, where it is easier for it to evaporate. This keeps the athlete dry and more comfortable.
Nike Dri-FIT
The technology has been around for some time now and is quite prominent in many Nike products, including football shirts, shorts and socks, as well as sweatshirts, pants, sleeves and even hats and gloves. Instead of trapping sweat and moisture in the garment, Dri-FIT channels it to the surface where it dries rather quickly. This prevents the shirt from sticking to the body the way cotton often does. It can be washed, although one would be wise to follow the washing instructions to preserve the fabric's performance.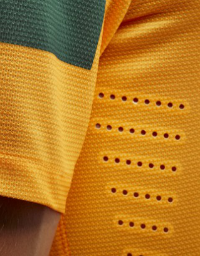 Dri-FIT Body Mapping construction adds strategically placed ventilation zones to increase the flow of air under the fabric, while Dri-FIT UV adds built-in UPF 30 ultraviolet protection.
Where to get it?
Nike outfits all the uniforms of the professional football teams that wear their designs with Dri-FIT technology. For the fans, it's good to know that both the match and stadium shirts produced by Nike come with Dri-FIT, so shop comfortably when looking for a football jersey of your own. As long as the shirt is official, it will come with Dri-FIT.
See also: Nike AeroSwift