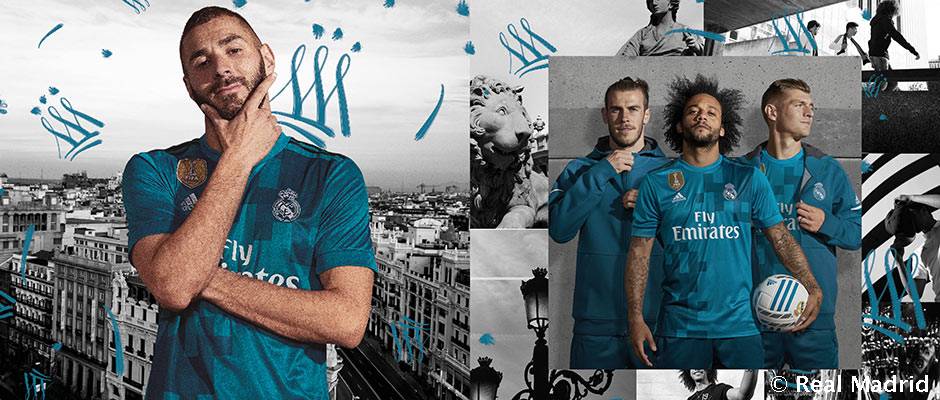 Adidas, the official sponsor of the Real Madrid football kit, has revealed the third shirt for the Los Blancos 2017-18 season. It is blue/teal in colour and it was designed by the Real fans from around the world.
Real Madrid Football Kit – Third Shirt
Borrowing from the accents of this year's Madrid first jersey, the new shirt is teal and features the Adidas ClimaCool technology. This innovation allows the fabric to pull sweat away from the body and to increase micro-ventilation. Its shoulders are adorned by the famous three Adidas stripes that have accompanied their apparel for decades, while the chest features a pressed logo, the sponsor and Real Madrid crest. A pixelated pattern of squares adorns the top and bottom of the jersey, giving it a contemporary look. The shirt is light weight and very breathable. It is made of 100% polyester and its accompanied by slightly darker shorts and teal socks.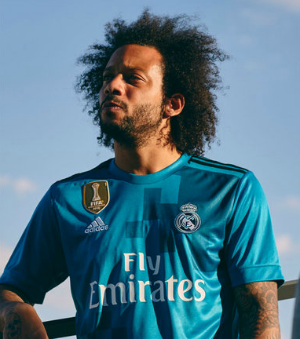 Designed by the fans
Unlike the other two uniforms that the reigning European champions will be wearing this season, the third kit was designed by the fans. Los Blancos supporters all over the world submitted their designs and then voted on them on the Creator Studio platform. The 100 most popular entries were passed to a board of former Real Madrid players, who eventually chose the winner.
What do we think?
While Real Madrid calls the third kit "sky blue", it actually borders slightly on teal. No doubt, the skies over the Spanish capital must be very exciting. Still, the design is excellent and the shirt looks great. The idea of having the fans plan this jersey for the club was absolutely brilliant, as these days the third kits are usually made for the fans and are often received with mixed emotions when they deviate greatly from the original team colours… which they often do. The shirt hugs the body well but it's still loose enough and breathable, making it a great outer garment for the summer and a good looking fan shirt for the winter months.
Where to get it?
As with all Real Madrid official jerseys, the best place to choose one is at Subside Sports. The company deals only in official and licensed merchandise.
What do you think?
Do you like the colour? The design? Should all the third kits be designed by the fans? Let us know below what you think!