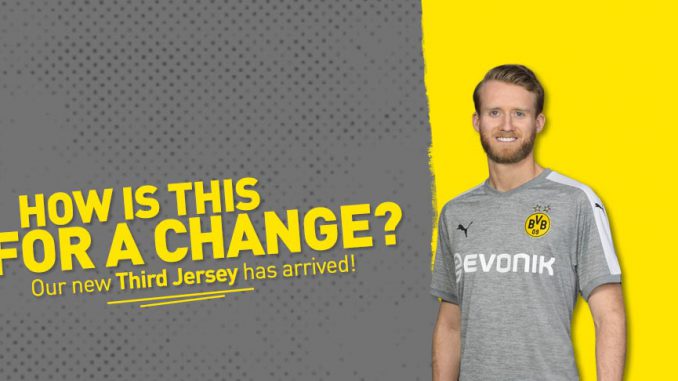 Borussia Dortmund third kit for the 2017-18 season has taken the form an iconic feature – a shirt for the fans. And while the shorts and the socks are simply white with gray/black finish, the jersey definitely grabs attention.
Like the rest of Dortmund's kit, the third jersey is made by Puma – the club's official apparel manufacturer. It introduces a simplistic design in heather gray with white stripes running along the shoulders to the hems of the sleves. Black Puma cat adorns the right breast, while the BVB logo stands out prominently over the heart offering the only dash of colour. The jersey is made of highly functional material which channels sweat away from the body and features underarm mesh gussets for better ventilation. It is made with the proprietary Puma dryCELL garment technology and contains 100% polyester.
A Shirt Made for Fans
As a pitch alternative to the usual Borussia yellow the shirt offers very little, but this jersey was made for the fans and that is where it truly shines. It one word, it's fashionable. The design may be simple but it's attractive and the hue of the gray goes with virtually any other apparel in one's wardrobe. The embellishments complement the design but don't detract from the very eye-catching logo which by the virtue of being highly noticeable in yellow stands out from afar. And that is precisely what we want. This is one shirt that is not going to become obsolete at the end of the season, as it can be worn as a t-shirt for years to come allowing fans to proudly display their Borussia allegiance in both comfort and style. Among all the club's merchandise not only does this jersey fit in the category of casual wear that supporters like, but it has the additional distinction of actually being worn on the pitch. It's a true shirt for the fans and it has lasting appeal.
Where to Get It?
If you are a Borussia fan, this shirt is a gem. It has a long lasting appeal. For this and other BVB jerseys check out Subside Sports. For other Borussia fan merchandise, check here.
What Do You Think?
Let us know what you think about the new Borussia Dortmund apparel, specifically their design choice for their third 17-18 jersey.